Toilet Rolls Machine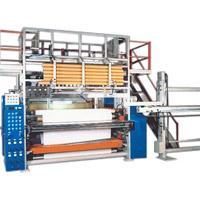 Toilet Rolls Machine
Product ID: JY-8232 Series - Automatic Jumbo Roll
The Automatic rewind line of Toilet Rolls Machine is a complete, integrated system that produces a wide variety of products.
Easy production process - Start and finish can choose manual / auto, finished products can be set up from sheet, Dia. and length. All perforation, slitting, rewinding, trim and tail sealer completed in one machine.
Special design of sprial perforator keeps very low noise and long service life. Slitting system use air control, easy to repairs and moves.
Option Equipment for the Toilet Rolls Machine: Single / Double / Edge Emboss Section & Flexo-Printer and variety of equipment on rewinder.
Specifications:
Parent Roll Width: Max. 3,000mm
Parent Roll Diameter: Ø 1,500mm (Max.)
Capacity : 300 meter/min
Parent Roll Basic Weight: 1 Layer 17 ~ 35 g/m²
Perforation Length: 114.3 ~ 400mm
Finished Roll Diameter: Ø 80 ~ 400 mm
Finished Roll Core Diameter: Ø 30 ~ 76 mm
Option: Embossing Device (Steel Roll x 1pc, Rubber x 1pc)
If you require for more detail information or request different specifications about our Toilet Rolls Machine, please contact us!
Order Information:
Minimum Order: Negotiable
FOB: Taiwan