Tissue machine-V-Fold Hand Towel/Facial Tissue Converting Machine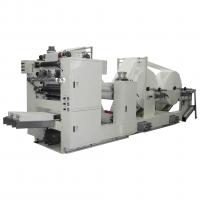 JY-330V Series V-Fold Hand Towel Converting Machine
Product ID: JY-330V Series
JY-330V tissue folder is an alternate folding converting machine for towel paper which carries out slitting, shear cross-cutting and folding from it's parent roll.
By containing the alternate folds of facial tissue in the carton, it is possible to produce carton tissue of pop-up type which can be taken out by the consumer steadily sheet by sheet at time of use, particularly this machine being designed to carry out folding by vacuum adsorption, is a folder capable of fully separating the facial tissue sheet by sheet with quiet operation.
It is capable of attaining a converting speed up to 100m/min this superior machine MODEL: JY-330V consists of stabilized operation with little trouble, high bulk paper, consumption of parent web decreased and few imperfection, economic installation, etc.
Specifications:
No. of Lane: 2 ~ 5 Lane (1 Deck)
Folding System: Vacuum
Unfold Size (L x W): 190mm ~ 220mm x 240mm or as requested
Folded Size (L x W): 95 ~ 110 x 240mm or as requested
Folded Type: V-Fold
Capacity: 80 ~ 100 meter/min
Embossing Unit: 1 sets of steel/paper roll
Converting Web: 1 ply towel paper (Semi-Crepe Paper)
Parent Roll Width: Max. 1,200mm
Parent Roll Diameter: Ø1,200 mm
Order Information:
Minimum Order: Negotiable
FOB: Taiwan