Tissue paper machine-Z-Fold Hand Towel Folding Machine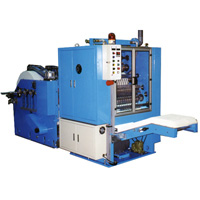 JY-330Z Series Z-Fold Hand Towel Converting Machine
Product ID: JY-330Z Series
Compact three-fold pop-up processing
This is a towel inter-folder which cross cuts towel paper from one parent roll, overlapping sheets and performing continuous zigzag three-fold folding at the same time.
Either needle type or vacuum type is available for overlapping depending on paper quality.
With three-fold shape, smaller case cartons can be used conveniently for compact pop-up towel products.
Specifications:
No. of Lane: 2 ~ 5 Lane (1 Deck)
Folding System: Vacuum & Mechanical
Unfold Size (L x W): 235 x 240mm or as requested
Folded Size (L x W): 78 x 240mm or as requested
Folded Type: Multifold (Z-Fold) (N-Fold)
Capacity: 80 ~ 100 meter/min
Embossing Unit: 1 sets of steel/steel roll
Converting Web: 1 ply towel paper (Semi-Crepe Paper)
Parent Roll Width: Max. 1,200mm
Parent Roll Diameter: Ø1,500 mm (Max.)
Order Information:
Minimum Order: Negotiable
FOB: Taiwan