Semiautomatic Paper Box Closing and Sealing Machine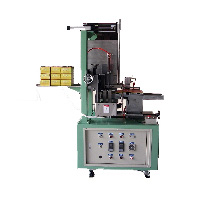 JY-100P Series Semiautomatic Paper Box Closing and Sealing Machine
Product ID: JY-100P Series
The semiautomatic packing machine JY-100P, each minute may achieve 45 boxes seal the box speed, in the semiautomatic situation, makes the operator to be easier to keep abreast of the packing situation.
Meanwhile, this machine doesn't use an expensive hot melting adhesive with innovation, which is not only to save the volume of the glue but also reduce the malfunction degree to the minimum.
Specifications:
Box Size: 220 ~ 250 (L) x 110 ~ 120 (W) x 45 ~ 105 (H) mm (approx)
Adhesive Material: Hot Melt Glue
Capacity: 20 ~ 45 boxes/min
Heater: 500W x 6 pcs
Air Consumption: By 5 HP air compressor (Excluding in quotation)
If you require for more detail information or request different specifications, please contact us!
Order Information:
Minimum Order: Negotiable
FOB: Taiwan