Hand Towel /Tissue Bundle Wrapping Machine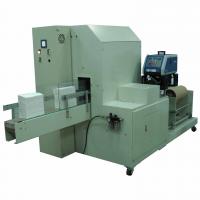 JY-330P(PS) Series Hand Towel / Bundle Wrapping Machine
Product ID: JY-330P(PS)Series
The operator take the hand towel from outfeed conveyor of Interfold machine and put it into infeed slat conveyor of bundling machine.
The infeed slat conveyor conveyed the hand towel into the bundling machine.
Once the hand towel be conveyed to bundling position, the compress cylinder descend and compress the hand towel. It make the height of hand towel lower and can be bundle tighter. Lateral pusher, that moved the hand towel in to bundling wrapping device. The hand towel packed by packing material and then hot melt sealing.
The hand towel that finished bundling be pushed to outfeed conveyor. The operator put it into carton.
Specifications:
Box Size: 250 ~ 1,200 (L) x 100 ~ 115 (W) x 100 ~ 125 (H)mm or as requested
Packing Material: Paper only
Sealing Type: By hot melt
Main components.
Hot melt applicator.
Tank Capacity: 6kg
Power Consumption: 2,700W
Pump Extrusion Rate: 8 cc/rotation inside planetary gear pump
Pusher Pneumatic Cylinder: Ø 40 x 400mm stroke (JAPAN model)
Power Requirement: 7KW 220V or 380V / 50HZ / 1 Phases
Air Consumption: By 5 HP air compressor (Excluding in quotation)
Order Information:
Minimum Order: Negotiable
FOB: Taiwan