Tissue paper cutter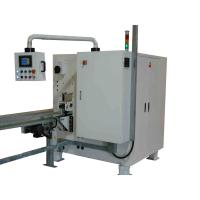 Product ID: JY-330S Series
Features:
· Application:Facial tissue and Hand towel Cutting
· High Productivity
• Rotating and Revolution round architecture with a circular blade. Smoothly at the speed up to 80 times per minute.
· Automatic Blade Grinding System
• Set the sharpen counter, sharpen time and grindstone forward according to cutting times. Ensure the blade keep in sharpness.
· Highly Safety Design
• Multiple Cutter Blade Protective Architecture (Protective Fence + Safety Door +Sensor), provide Blade install tool kit for safety install and disassembly.
· Friendly Operating Interface
• Use Man-Machine Interface Operator to set the cutting speed and length.
· Easy Diagnostic
• Display the D/I and D/O status of PLC and Error Code, very easy to diagnostic and maintenance.
· Automatic Core Diameter Clamp Adjustment
Flexible Plastic Clamp with a big range core diameter adjustment.
Specifications:
Cutting Speed: 40~80 Cuts/Min.
Cutting Length: 90 ~ 300 mm at any size