Tissue Paper Machine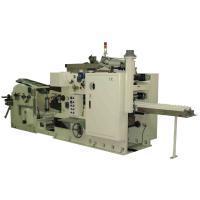 Tissue Paper Machine
Product ID: JY-330A-2T Series
The Tissue Paper Machine is provided by Jiuhyan Precision Machinery. It is with great capacity and warranty, ideal for customers who cares about details. The equipment has several features as the following mentioned:
- Folder Producing a Large Variety of Products

♦This is a folder which continuously converts tissue paper, thick & non-woven fabric or other materials from the parent roll into various shapes as shown below at the rate of 500 ~ 600 sheets/min per lane.
- Fashionable and High Quality Table Napkin

♦This tissue paper machine is a rotary folder to which printing and embossing units are connected to produce beautiful lunch and dinner napkins through continuous processes of printing, embossing, folding and cutting of paper from the parent roll.
♦This equipment is highly regarded in the converting industry for producing high quality table napkins.



Specifications:
No. of Lane: 2 Lane
Folding System: Vacuum
Unfold Size (L x W): 200mm x 200mm ~ 430 x 430mm (select one size or option more sizes)
Folded Size (L x W): As buyer requested
Folded Type: 1/4, 1/6, 1/8, Dispenser Folds
Capacity: 1,000 ~ 1,200 sheets/min
Embossing Unit: Can supply 1 ~ 4 sets of steel/paper roll
Flexor-printing Units: Can supply flexor-printing units up to 1 ~ 4 colors.
Converting Web: 1 ~ 3 ply napkin paper
Parent Roll Width: 400mm ~ 860mm
Parent Roll Diameter: Ø1,500 mm (Max.)
Option of the Machine: Edge Guilder Control Device
Order Information:
Minimum Order: Negotiable
FOB: Taiwan