Automatic Paper Stacks Stuffing & Paper Box Gluing & Sealing Machine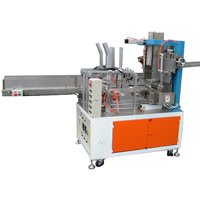 JY-200P Series Automatic Paper Stacks Stuffing & Paper Box Gluing & Sealing Machine
Product ID: JY-200P Series
Regarding the design of Auto-packing machine for boxes, the machine can finish from the forming of the box, the filling of the printing of the date, folding the left side and the right side, sticking a hot melting adhesive to pilling-up. It's a kind of machine for box design with multi-functional and full-automation, which only needs small space and saves labor as well as sticks a hot melting adhesive by reducing the production cost so as to reach the safety packing.
Meanwhile, this machine doesn't use an expensive hot melting adhesive with innovation, which is not only to save the volume of the glue but also reduce the malfunction degree to the minimum. It available for the manufacturers who make tissue cases.
Specifications:
Box Size: 220 ~ 250 (L) x 120 (W) x 60 ~ 100 (H) mm (approx)
Adhesive Material: Hot Melt Glue
Capacity: 20 ~ 30 boxes/min
Heater: 500W x 6 pcs
Air Consumption: By 5 HP air compressor (Excluding in quotation)
If you require for more detail information or request different specifications, please contact us!
Order Information:
Minimum Order: Negotiable
FOB: Taiwan